Sepak Industries, an Australia owned and operated Processing Engineering Company has released their CK200E (200L working volume) Electric steam cooking kettles for Commercial cooking.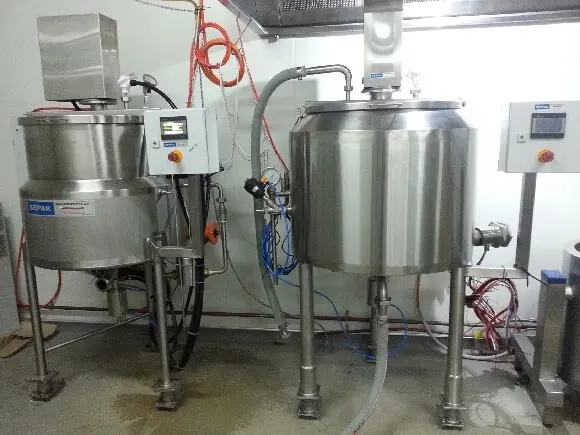 These electric kettles are excellent!
Uses 415VAC 50Hz, power supply depends on models.
Are great for kitchens where gas is not readily available.
Cheaper to install as there are no new gas lines to be installed and no chimney for gas burner.
Sepak Industries CKxxxE series Electric Steam from 50L capacity to 500L. The heating time, using water, is impressive at 60minutes from room temperature to boiling in CK200E with 200L capacity.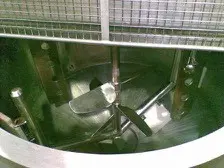 The Sepak Industries CKxxxE Electric steam Kettles standard features are;
Stainless steel 316 product contact parts.
Hygienically designed and constructed kettle interior.
Scrapping agitator which ensures there is no product burn on.
Tank bottom outlet valve which ensures 100% of the ingredients are mixed.
2 x removable lids, 1 lid with safety switch which shuts off the agitator when opened. The other lid is fixed with bolts only required to be removed when agitator requires servicing.
Automatic water level monitoring in the jacket which is interfaced with heating element to protect premature heating element failure.
Digital product temperature control (not steam temperature control) hence given accurate good quality food every time.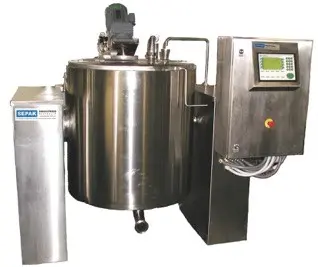 The Electric Kettles can be supplied with following options;
HMI colour touch screen which enables operators to save and reuse recipes where cooking temperature and cooking times can be adjusted.
Water batchmeter.
Clean-In-Place (CIP) Washing system which uses spinning spray head to spray high velocity spray within the kettle.